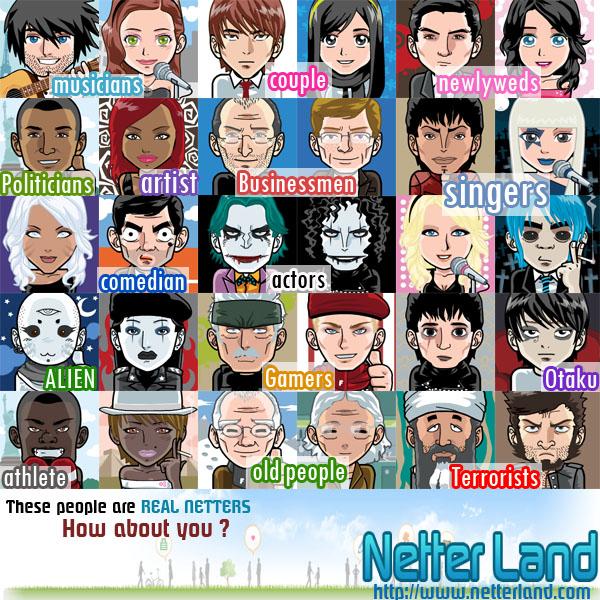 NetterLand which means The Land of Internet Users (anyone with network address - the definition of netter) is a social networking community where people can do various things from A to Z and find new friends in virtual life. Unlike other social networking sites which only give people a little space to express themselves, NetterLand covers every aspect of your cyber needs.


What differs NetterLand from other social networking sites?
On NetterLand, It's not only about socializing yourself, having fun, playing online games or meet new people, you are given a land to grow and advertise your business.

Here are some A to Z Features that will complement your virtual life.

Blog
This is where you can write about your interests and share them to other internet users. You can also advertise your articles from your own website and submit your Press Release.

Video
This is where you can upload or grab your favorite videos from a video site like YouTube. It's also a perfect feature for growing your youtube channels, music videos and Vlogs

Games
More than 5000 games will absolutely amuse you. From NES to Social games, From Flash to Multiplayer games, You can play them all for free!

Business Directory
Letting people know about your business is one of vital strategies to boost your income. And NetterLand is a great spot to do that. All you need to do is submiting your businesses, websites or companies in NL's Business Directory.

Auction
Almost similar to eBay, you can create listings and sell anything you want. You may find cheaper stuffs sold by other netters as well.

Gallery
This is where all artists such as painter, photographer, designer, models etc can share their arts. A media for sharing any pictures!

EZ-Cash
For creative people who want to sell virtual services, this is your money jar!

Media Sharing
This is where you can upload, download and if you want, you can make money easily using your favorite URL shortening service

Indie Music
Musicians and Bands won't gain fame if they don't have fans. Indie Music is the section where you can get more audiences. Upload your music and let the world listens. Whatever your genre is, You are welcome!

Connect
NetterLand understands that almost everybody use facebook and twitter. To make NetterLand more social, you're provided a feature where you can connect your facebook and twitter accounts and interact with your friends.